04 Dec 2017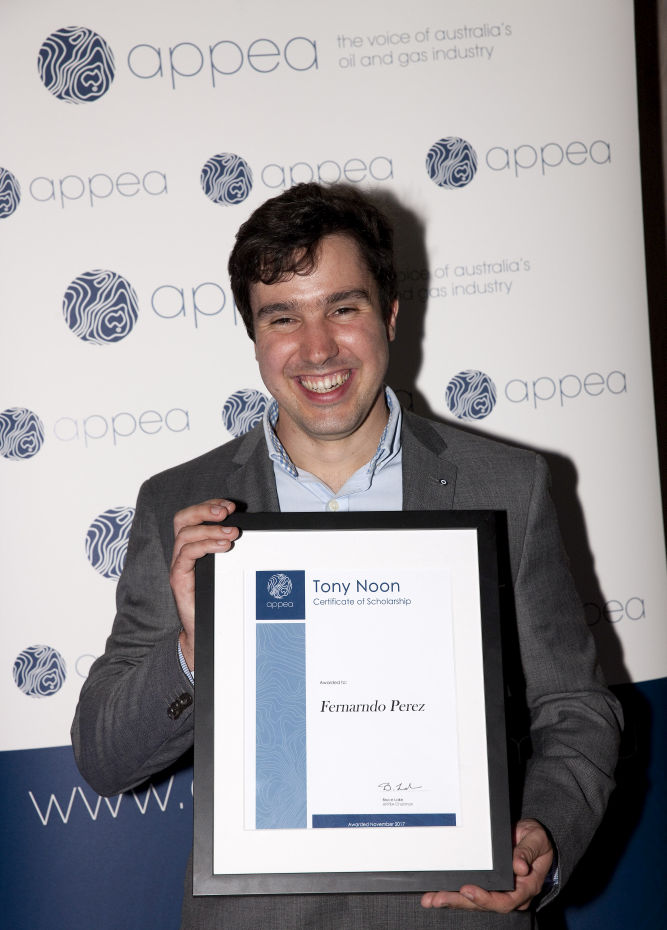 APPEA has presented its 2017 Tony Noon Memorial Scholarship to Fernando Perez, a PhD student in chemical and process engineering at the University of Western Australia.
His PhD topic is Experimental analysis and simulation of liquefied natural gas (LNG) weathering and rollover.
 The Tony Noon Memorial Scholarship is aimed at assisting students who are aspiring to a career in the upstream petroleum industry.
It provides a one-off grant to the value of $3000.  Applicants must be enrolled in honours, Masters or PhD programs at an Australian university and may come from a range of disciplines, including, for example, geology, safety, engineering, economics, law or environmental management. The scholarship is open to Australian citizens and permanent residents.
APPEA will call for applications for the 2018 Tony Noon Scholarship in August next year.
Mr Perez already has a Master of Chemical and Process Engineering, and has worked for Woodside Energy as a Chemical and Process Engineer.
His research will collect experimental data to use in creating an accurate model capable of reliably predicting boil-off gas rates and other phenomena related to "rollover".
"The outcome of these experimental measurements will allow chemical and process engineers to better predict boil-off gas and rollover phenomena, which would reduce the cost of LNG transportation and storage and would help improve safety," Mr Perez said.
The phenomenon of rollover is not well understood.
LNG tanks are insulated to limit admission of external heat. But some heat inevitably enters tanks during storage and transportation, causing continuous evaporation that creates boil-off gas.
Light components in the LNG mixture (i.e. methane and nitrogen) will boil-off first. This will change the composition and can lead to stratified layers of different density.
A sudden mixing of these stratified layers is called "rollover". This produces a rapid boil-off, which can lead to loss of inventory and can create safety problems by rapidly increasing the pressure in the storage tank.
Mr Perez's research will use a laboratory boil-off gas apparatus that mimics the conditions of an LNG vessel. It will study heat flux, volume, boil-off gas rate and composition in a variety of LNG mixtures.