26 Nov 2015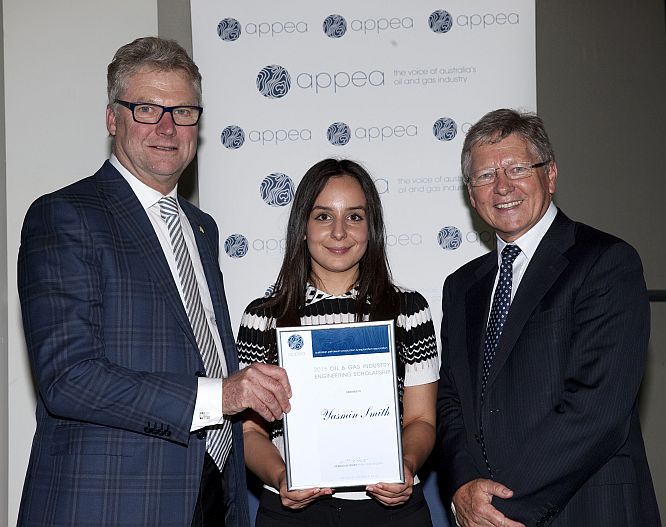 Five outstanding students from across Australia have recently been awarded APPEA Scholarships.
Undergraduate engineering scholarships
Western Australia's Minister for Mines and Petroleum, Bill Marmion joined me to present Yasmin Smith with an Oil and Gas Industry Engineering Scholarship at a function in Perth last night, following APPEA's Annual General Meeting.
Yasmin is completing a Bachelor of Mechanical Engineering at Curtin University.
She has excellent grades and her extra-curricular activities are also impressive. She is active in the Curtin chapter of the Society of Petroleum Engineers. She is also the Secretary of the Curtin University Division of Engineers Without Borders, which promotes awareness about humanitarian engineering in remote Australia and developing countries. Yasmin has also volunteered with several charities and has worked as an undergraduate mechanical engineer at SPIE Oil & Gas Services.
Two indigenous students also received Oil and Gas Industry Engineering scholarships.
Jordan Carter is a third-year Bachelor of Engineering student at Monash University who has worked as an intern for Shell and Viva Energy Australia. As an Indigenous Officer with the Monash Student Association, he organises the Indigenous University Games and other events for indigenous students.
Michael Keenwe is undertaking a Bachelor of Chemical Engineering (Honours) and a Bachelor of Business Management at Monash and RMIT. He is the Campus Coordinator of the Monash branch of Engineers Australia. Last summer, he undertook vacation work with Woodside Energy.
These scholarships are intended to support undergraduate engineering students working towards careers in the Australian oil and gas industry. The recipients are awarded $10,000 each – $5000 upon winning the scholarship and $5000 upon completing their studies.
Postgraduate scholarships
APPEA has also awarded two postgraduate scholarships.
The Tony Noon Memorial Scholarship – a one-off grant worth $3000 – was presented to Curtis Armstrong, a PhD candidate at the University of Tasmania's Australian Maritime College. His research is intended to develop response-based analysis of floating systems' riser flow lines and their coupled systems. This would help prevent loss of assets while also reducing costs by enhancing design.
The KA Richards Memorial Scholarship was awarded to Jon McCullough, a PhD student at the University of Queensland's School of Mechanical and Mining Engineering. His thesis on heat transfer in hydraulic fracturing fluids is highly relevant to unconventional gas operations. The scholarship offers up to $10,000 a year over one year of Masters study or three years of doctoral degree study (or part-time equivalent).
These scholarships are made possible by an industry training fund established in 2009 by Brunel that is now supplemented with contributions from other employers.
The oil and gas industry relies on cutting-edge technology, sound science and the continual expansion of knowledge. It is committed to encouraging academic excellence.