03 Aug 2020
Discover Terrex Seismic to unlock your potential
Terrex Seismic has operated in Australia since 1981. Terrex Seismic is a leading seismic contractor delivering innovative seismic data acquisition solutions to the oil and gas, minerals, coal and research sectors.
Seismic data acquisition is by far the best tool available for providing accurate images of the subsurface and assessing the exploration potential of your acreage. Terrex Seismic's high-quality, cost-effective seismic reflection recording services are designed to minimise impact on the environment and landowners and maximise health and safety outcomes.
Terrex Seismic – originally geosystems – has acquired over 1,000 seismic surveys, having worked for almost 40 years in every major Australian onshore basin.
Terrex Seismic CEO Chris Kneipp said: "Terrex prides itself on consistently supporting and serving the industry, delivering high-quality seismic acquisition services on time and within budget, bringing equipment and technical innovation to the forefront of seismic exploration regardless of the unpredictability of the cyclical nature of the resource industry.
"Over the last two years, Terrex has invested heavily to further our capacity to undertake high productivity acquisition techniques, particularly high-resolution 3D surveys uniquely suited to the Australian environment.
"Terrex continually endeavours to acquire more data, safer and more efficiently for our clients. This has been demonstrated by our investment in 48,000 SmartSolo® nodal recording system."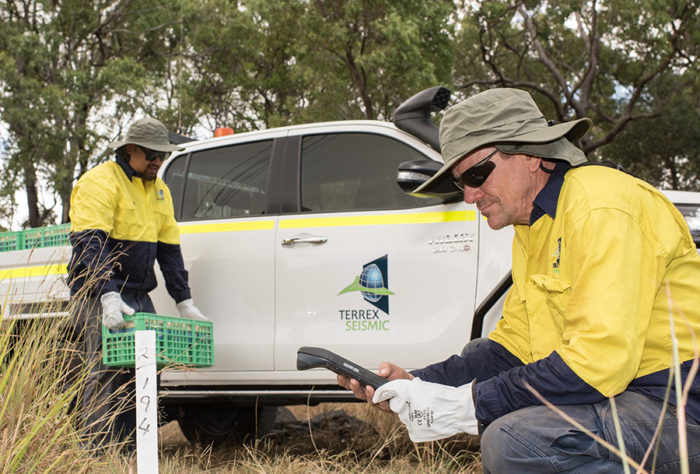 Terrex was the first to introduce this system to the Australian market an advanced smart seismic sensor technology that improves the quality of seismic data and has significant benefits in terms of HSE exposure, data quality and operational efficiencies.
The addition of a further 10 AHV-IV vibroseis machines and 3 Univibs into the fleet of vibrators has further equipped Terrex with the scalability needed to truly unlock the potential of acquiring high density, broadband, seismic throughout Australia's petroleum and mineral basins.
Terrex Seismic is also the first company in the world to introduce a new radio communication system used in a production environment to allow a Vibrator Fleet to not only communicate with the Recorder, but also directly with other Vibrators simultaneously.
This not only allows for real-time monitoring on all vibrator status and performance within the radio network but can also lead to higher production rates and greater control over time and distance rules for source acquisition.
"Our biggest strength is our experienced staff in key roles across the organisation. Our people are passionate about the services we provide," Mr Kneipp said.
"We strive to minimise our environmental footprint whilst continually delivering outstanding operational results. We hold ourselves accountable for results and endeavour to always act with integrity, transparency, and professionalism.
"We are committed to providing cutting edge seismic solutions to our customers in Australia. We remain focussed on continuing to deliver excellent value and technology innovation through working collaboratively with our clients."
For more information, visit terrexseismic.com or for any enquiries, contact Ben Shave and Megan Nightingale at [email protected].