25 May 2016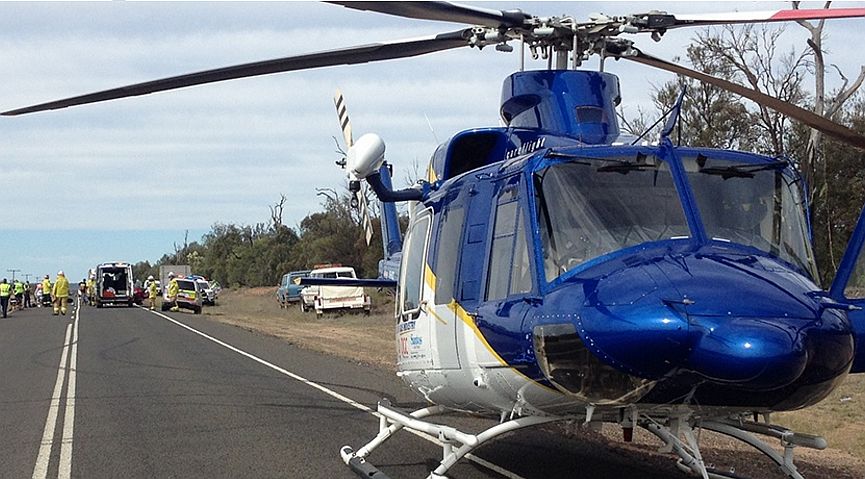 More than five years ago, Queensland natural gas companies sat down to work out ways to meaningfully contribute to communities in the areas where they operate.
As a result the Surat Gas Industry Aeromedical Service (SGAS), in partnership with Careflight Queensland, was scheduled for take-off.
Arrow Energy, Origin Energy, QGC and Santos invested more than $35 million in partnership with Careflight to minimise impacts from gas industry operations on public medical services while providing emergency care for industry workers operating in remote areas.
Two medically configured Bell 412 helicopters based at Roma and Toowoomba service an area that's roughly 270,000 square kilometres, is spread across eight council boundaries and has a population of nearly 210,000 people.
The helicopters can accommodate up to two patients at a time.
Each is staffed by one full-time emergency doctor, two pilots and two paramedics representing one of only a few fully integrated emergency retrieval teams in the nation.
They are permanently on call to provide around-the-clock emergency care, providing a medical lifeline to the Surat Basin every day of the year.
And they're making a difference.
There have been 550 emergency retrievals since its inception: from serious motor vehicle and farming accidents and venomous snake bites to urgent hospital transfers.
In recent months for example, a 19-year-old woman was airlifted by CareFlight's SGAS following a single vehicle accident near Rolleston in Central Queensland and a 53-year-old man was hospitalised after a serious sawmill accident near Roma.
The service is saving lives.
It has been replicated via more industry funding in Gladstone for an aeromedical evacuation service that supports LNG workers on Curtis Island and the wider community.
Since 2011 gas companies have contributed $177 million towards community projects in regional Queensland from charity work and sporting club upgrades to hospital services and public amenities.
It's an investment in the future and one that will benefit communities where our employees live, work and raise their families for decades to come.
First published in the Surat Basin News on 26 May.