02 Jun 2020
Petrofac expanding operations, maintenance and management in Australia
Petrofac is a leading international service provider to the oil, gas and renewable energy industries.
The company designs, builds, operates and maintains facilities to provide assured and ultra-efficient delivery outcomes for some of the world's leading national, international and independent energy companies.
Globally, Petrofac has delivered operational support across the entire oil & gas life cycle in uniquely challenging locations. Offshore or onshore, from the desert to the Arctic, the company's focus is on assuring on-time, high-quality project delivery by embedding smart and safe methodologies. Operating across 29 countries worldwide with offices and presence in the Middle East, Asia Pacific, Europe, Africa, India, CIS and the Americas.
Petrofac Regional Director of Operations Adam Cheesman said: "For over 20 years, we have delivered fit-for-purpose operations, maintenance, and asset management solutions in some of the world's most regulated environments.
"By combining know-how with digital technology, our teams increase production, optimise efficiency, reduce OPEX and lower lifting costs – supporting clients to increase economic viability and extend field life."
With more than 10 years' experience in Australia, Petrofac is currently expanding its presence and service capability, with a specific focus on growing operations, maintenance and well management offerings.
"Our technical specialists support clients to get more from their assets by developing and standardising technical frameworks and systems that assure integrity, optimise maintenance and plant performance," Mr Cheesman said.
"We leverage our extensive track record of being the registered operator for many onshore and offshore oil and gas facilities across the globe to drive additional value for our clients.
"Coupled with our experience of drilling over 400 wells and executing multi-well plug and abandonment campaigns, this ensures Petrofac is extremely well-positioned to support the current challenges faced by Australian oil and gas operators as their facilities enter into the late-life phase and ultimately into decommissioning."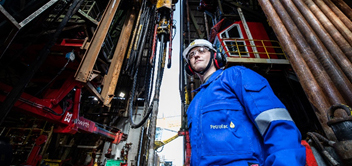 Petrofac's track record in the Asia Pacific region includes successful delivery of asset management solutions, operations readiness, metering and allocation, and well engineering services.
These services are delivered through locally based teams in Perth and Brisbane, with global support.
In addition to in-house capability, Petrofac has existing relationships with local partners that provide access to further resources and the ability to scale in-country as required.
To find out more, visit www.petrofac.com