17 May 2017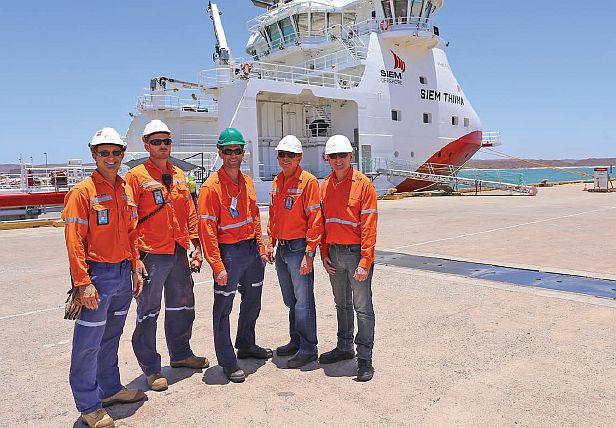 Woodside Energy was presented with the Australian Petroleum Production & Exploration Association Environment Excellence Award at Tuesday night's APPEA 2017 Conference Dinner in Perth.
In announcing the award, APPEA Board member and Buru Energy Executive Chairman, Eric Streitberg, said the judges found that Woodside has consistently shown excellence across all facets of environmental performance.
"Woodside has integrated world-class environmental management into its exploration and its facilities," Mr Streitberg said. "The company seeks to protect its workers, its communities and the environment by delivering sustained leading Health, Safety, Environment and Quality (HSEQ) performance."
Woodside's environmental approach has four key elements:
An integrated HSEQ culture that fosters environmental awareness and drives continuous improvement;
A strong HSEQ capability that the company is continuously improving;
Using sound science and strong, long-term partnerships to understand local environments, deliver public benefit and build trust with stakeholders; and
Using strategic planning and risk management to minimise environmental risks and impacts.
"In 2016, Woodside focused strongly on energy efficiency and producing its energy as sustainably as possible," Mr Streitberg said.
"For the first time, energy efficiency was included as a metric in the company's corporate scorecard. Woodside set a corporate target of 1 per cent fuel intensity improvement. This is on top of its existing annual flare reduction target – since 2013, the company has reduced its flared gas intensity by more than 50 per cent.
"Woodside engineers developed several initiatives that directly reduced fuel usage or flaring, or improved the company's production efficiency. By continuing to enhance its data science capacity, Woodside is finding more opportunities to use existing equipment in smarter ways that reduce emissions intensity and add value."
To further reduce its emissions footprint, Woodside is also now aiming to maximise its use of liquefied natural gas (LNG) as a shipping fuel. LNG has 25 per cent fewer greenhouse gas emissions than diesel and 30 per cent fewer emissions than heavy fuel oil (the dominant fuel in shipping). It also has no sulphur oxides or particulates, and has low nitrogen oxide emissions.
In April 2016, Woodside signed a five-year charter of the Siem Thiima vessel (pictured) from Siem Offshore. This is not only Australia's first platform support vessel capable of running its engines on both LNG and diesel, but also the first vessel fuelled with LNG anywhere in the southern hemisphere.
Media Contact