Excellence Awards
Australia's oil and gas industry recognises the outstanding initiatives by member companies annually, with our Excellence Awards honouring the best environmental, health and safety, workforce and community work since 2001.
The awards are handed out at the Gala Dinner of the annual Australian Energy Producers Conference & Exhibition, with the latest handed out in Adelaide in May 2023 (see winners below).
We will call for nominations for next year's Australian Energy Producers Excellence Awards in early 2024.
Previous award winners honoured in 2022 can be viewed here.
For further enquiries, Australian Energy Producers members may also contact Jason Medd, Director Environment, Health & Safety.
2023 Winners
In May 2023, Australian Energy Producers recognised the industry's unwavering commitment to maintaining high standards with a new major award and supporting categories at the Australian Energy Producers Conference & Exhibition in Adelaide.
Woodside Energy was awarded the top Australian Energy Producers Chair's Award for its Karratha Education Initiative – Enriching Educational Opportunities & Achievement.
The program has bridged the gap between resources and opportunities available to metropolitan school students compared to those in remote regional centres, providing employment pathways support for Karratha secondary school students over the past 15 years.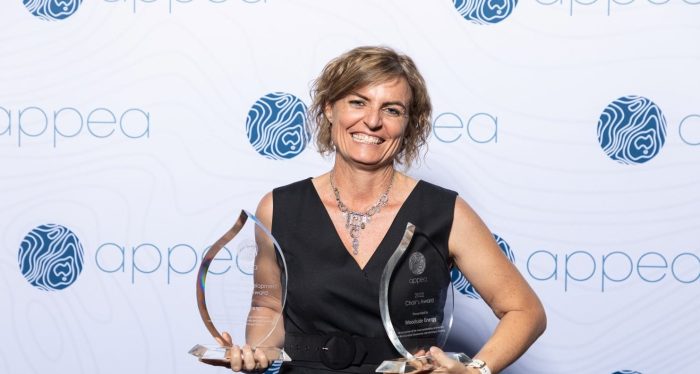 Woodside Energy Manager Corporate Affairs North West Amanda Fuery accepted the Australian Energy Producers Chair's Award for Karratha Education Initiative – Enriching Educational Opportunities & Achievement. The program also won the Community Development Award category
A collaboration between the North West Shelf Project joint venture partners, St Luke's College, Karratha Senior High School and the Department of Education, the partnership supports pathways through tertiary education or industry-based careers.
Australian Energy Producers Chief Executive Samantha McCulloch said the winner of the new award, selected independently, exemplified the way members contributed to the communities where they operated.
"The criteria for this award says it all – recognising culture and leadership, performance and outcomes, engagement and collaboration as well as innovation and advocacy with external stakeholders," she said.
"Programs like this show how Australia's oil and gas industry can make a real difference in communities across Australia, particularly in remote and regional areas like Karratha, to improve the lives of Australians."
The initiative was one of three Woodside Energy projects recognised for their excellence in individual award categories alongside other initiatives by Beach Energy and ExxonMobil Australia.
The Karratha Education Initiative took out the Community Development Award category.
The Safety Project Excellence Award went to Beach Energy for its Otway Offshore COVID & Mental Health Management conducted during the pandemic, overcoming the health and safety challenges and restrictions like border closures to continue as one of the few drilling campaigns operating.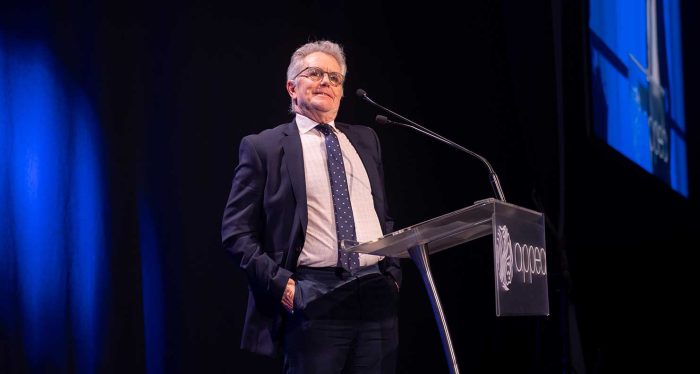 Beach Energy Offshore Drilling Manager – Australia Brad Muir accepted the Safety Project Excellence Award
In collaboration with Diamond Offshore, the program conducted the campaign in the Otway Basin between February 2021 and July 2022 with the Ocean Onyx drilling rig.
Stringent COVID controls and 'green corridor' travel pathways enabled the rig to continue operating with only a few days of downtime due to COVID.
The Workforce Development Award was awarded to joint winners, ExxonMobil Australia and Woodside Energy.
ExxonMobil Australia subsidiary Esso Australia's Mentored Apprenticeship Program is providing skilled employment opportunities to young Australians while helping develop a skilled workforce.
Developed with training provider WPC Group, the program has hired and trained 42 apprentices and trainees from diverse backgrounds across Esso Australia's worksites in Gippsland and Hastings, Victoria since its inception in 2018.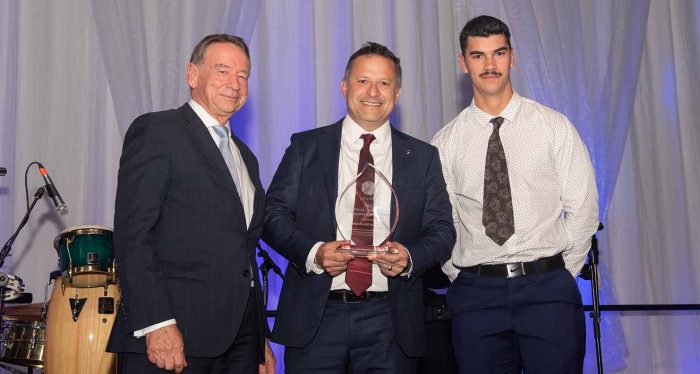 Australian Energy Producers Excellence Awards MC and former Cooper Energy CEO David Maxwell, left, presents the award to ExxonMobil Australia chairman Dylan Pugh, centre, and apprentice Thomas Mutimer
Under guidance from Esso's crew of experienced industry experts, apprentices and trainees are employed across a range of trades: electrical, mechanical, instrumentation and process plant operations.
Many of the initial cohort who commenced in 2018 have gone on to employment, working across Longford, Long Island Point and offshore sites.
Woodside Energy was also recognised in the Workforce Development Award for its Navigator Leadership Development Program, improving staff development to support the energy transition.
Navigator has become pivotal to integrating heritage BHP Petroleum employees into Woodside Energy and creating the culture of a combined organisation following the merger.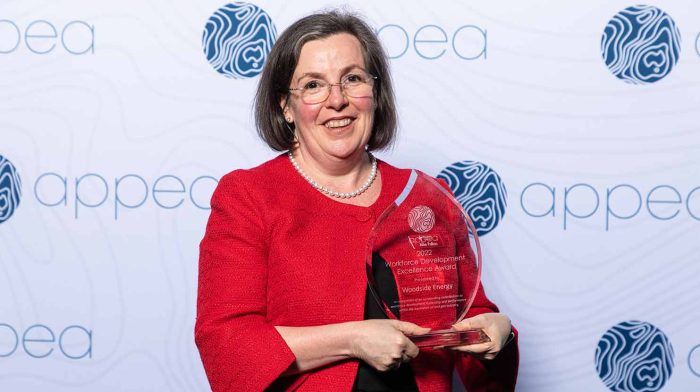 Woodside Energy Executive Vice President Corporate Services Julie Fallon accepted the award for its Navigator Leadership Development Program
It builds diverse capability, embraces cultural change and shapes clear leadership pathways.
Navigator is co-designed with AGSM (the business school of the University of New South Wales (UNSW)) to ensure quality of, and equal access to, personal development for all employees.
The Environment Project Excellence Award was also awarded to Woodside Energy for scientific innovation and collaboration enabling effective management of pygmy blue whales in Australia's northwest.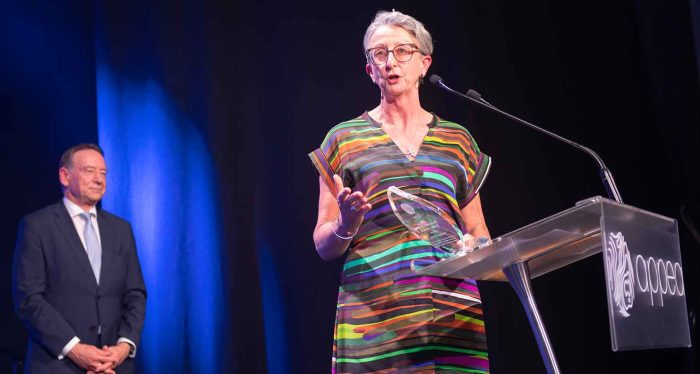 Woodside Energy Principal Biodiversity Scientist Denise McCorry accepted the Environment Project Excellence Award
Collaborating with the Australian Institute of Marine Science and the Centre for Whale Research, satellite tracking technology was used to understand how whales can respond to underwater noise.
This informs Woodside's offshore activity management while expanding public knowledge to support broader habitat management and conservation efforts.
Ms McCulloch congratulated this year's winners for their focus on improving outcomes.
"The Australian Energy Producers Excellence Awards highlight the outstanding work undertaken across our member companies to constantly improve operations for the benefit of the environment, health and safety and the communities where we operate," she said.
"Whether it's COVID safety procedures, whale protection, education programs for youths or workforce upskilling, these companies are adopting new approaches and technologies to improve outcomes for their own operations and Australia."